Known as "One of its Kind Water Park" in Delhi/NCR, Club Platinum Amusement Park is a perfect getaway to embark on a fantastic adventure. The thrilling rides happen to be the most fascinating amongst the best amusement parks and there is never a dull moment at this wonderland. The Master Blaster water coaster, and the exhilarating rides only
Probably this is why amusement parks always top the things-to-do list of every holiday itinerary
Park HIGHLIGHtS
Tora-Tora
A thrilling Ride which rotates at different heights and has a capacity of 25 Persons at one time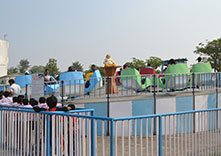 Break Dance
A thrilling Ride where we have 2 Chairs attached to each other and moves in clockwise direction and platform moves up and down
Columbus
A thrilling boat which can accommodate up to 30 Persons oscillates to and fro with very high speed
Metro Rail
On a platform with 15 Ft from Ground: 5 Separate Bogies will take you a for a Complete Ride of the Amusement Park.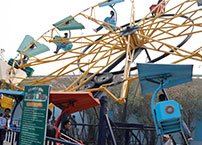 Super Trooper
A Thrilling Ride comprising of Gliders which Rotate in anti-clockwise direction in a Very High Speed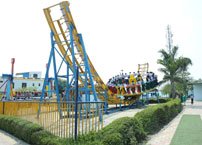 Disco -Disco
A very thrilling Ride which rotates in a Circular direction and also goes up and down.
Tsunami
A Very thrilling Ride which can accommodate up to 30 Persons at one time and turns 360-degree somersault
Baby Train
Sometimes called as Cat Train has Coaches in a shape of Cat in which 2 Children can sit in one Bogie.
Frog Jump
Shaped in the form of Frog hops and moves in a Circular direction.
Mini-Jumbo-Set
Kids can sit on any of the Jet Shaped Seats and electronically covers elliptical orbit.
Testimonials

"EXCELLENT AMBIANCE Excellent ambience, food and activities - had a lot of fun and great time. Will recommend highly to others and am looking forward to coming back soon."

STEVE JACOBS
HR- HCL

"PERFECT STAY We had a perfect stay at Club Platinum Resort. The environment and the atmosphere helped us to relax. We had a very good stay."

ABHAY SHARMA
Sales Manager-NIYO Solutions

"WONDERFUL EXPERIENCE We had a unique & wonderful experience. Enjoyed well and thank you ".

SMRITI
Managing Director- Royal Cliff

"AWESOME RIDES Awesome rides and water park. Resort was very clean and staff was very supportive.. Swimming pool was clean and it has other play activities included for child to enjoy. Loved the water sports..."

ABHISHEK SNGH
Finance Head- INDIGO

"BEAUTIFUL LOCATION Resort location is beautiful. Great views and wonderful facilities especially the Banquet Hall . Great food too. Courteous staff, excellent service and comfortable stay "

NITESH OJHA
EDITOR- INDIA NEWS